Live your dream holiday in Lamer Villas. The perfect location of the hotel by the beach and our experienced staff, will make sure your vacation memories will last forever.
Lamer Villas are located on Ammouliani island in Halkidiki, near the beach Alykes. This is one of the most beautiful sandy beaches of the island. Our newly built luxury apartments are spacious, fully equipped and ready to please all your needs. Experience unforgettable holidays at Lamer Villas. Its quiet location makes Lamer Luxury Apartments the perfect accommodation for those who seek peace and relaxation during their vacation time. Ammouliani Island Chalkidki
Ammouliani is located in bay of Athos and is the only inhabited island of Central Macedonia. Within a short distance from Thessaloniki, only 130 km and with easy access from the port of Tripiti by ferry boats. Get ready for the most magical holiday of your life by the sea!
The island of just 4.5 square kilometers combines the clean crystal beaches such as Alikes, Megali Ammos, Karagatsia and dense vegetation, since it is full of olive trees and fruit trees.
Ammouliani Island is a popular destination for those who seek relaxation by the sea. On the island you can find traditional restaurants, cafeterias and bars, where you can relax and enjoy your holidays by the sea. Enjoy activities by the sea and create unforgettable holiday memories!
The Hidden Diamond of Halkidiki
On Ammouliani Island you can find some of the most spectacular beaches of Halkidiki. Alykes, Megali Ammos, Karagatsia and Kalopigado are only some of them. Nearly all of the beaches are well organized, but simultaneously they maintain a peaceful environment. By renting a boat you can access many more isolated beaches either on Ammouliani Island or on the nearby Drenia Islands. The golden sand and the blue-green water is an ideal combination for swimming, snorkeling or fishing.
This is the reason why the locals call Ammouliani the hidden diamond of Halkidiki.
Within a short distance from the island of Ammouliani is Mount Athos. Mount Athos consists of twenty monasteries and other monastic institutions and informally designated as "Autonomous Monastic State". Entering the state of Mount Athos, is strictly allowed only to men according to the "Abaton" rule and the monastic ritual.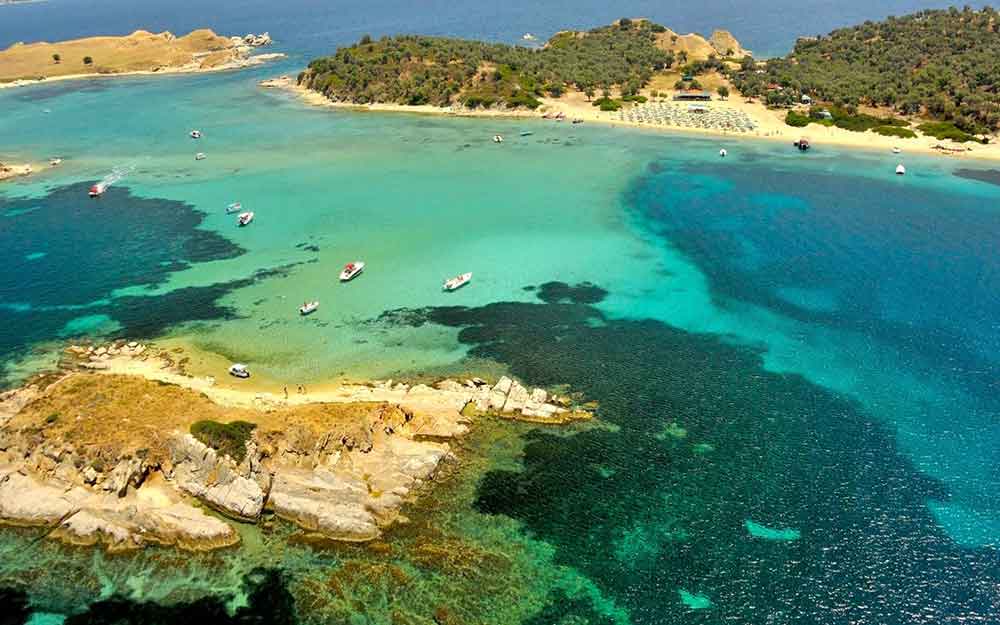 Ammouliani Island Gallery